GÉRARD NICOLAS
Cell.: 450-898-1137
Address : 33 Grande Ligne, St-Alexis de Montcalm, Québec, Canada J0K 1T0
Messages : (450) 839-3101
Birthdate: November 28th, 1957.
Languages: English, French, Spanish.

PROFESSIONAL ABILITIES
Ability to adapt to a wide variety of work environments, organizational skills, industrious, team work, good relations with the public and clients, creation of a wide variety of menus, efficient work methods.



PROFESSIONAL STUDIES
1980
Bartender and Waiter's Diploma
Institut de Tourisme et d'hôtellerie du Québec, Montréal
1979
Wine Steward Initiation Diploma
Amicale des Sommeliers, Montréal
1976
Professional Cook's diploma (French Cuisine)
Institut de Tourisme et d'hôtellerie du Québec, Montréal



PROFESSIONAL EXPERIENCE
April 1st 2010 to June 2012
Avion Gold Corporation - Toronto (Ontario), Canada -
Mine aurifère - Endroit : Tabakoto, Mali (Afrique de l'Ouest)
Chief administrator kitchen, kitchen management, preparation of menus, training of local cooks.
2007-2009
Resto Pub du Lac Mercier, 8 chemin du Village, Mont-Tremblant, Québec.
2005-2007
On calls with SNC Lavalin;
Café Antoine et Marina K, Labelle, Tremblant, QC (summer)
2004
Restaurant Auberge Inn, Le Griffon de la gare, Labelle (Quebec).
Chef. French cuisine.
August 1999-2003
Production Head Cook, Microbrasserie La Diable
Mont-Tremblant, Quebec, Canada (International Ski Village).
May-July 1999
Head Cook, Hostal de La Playa
Républica Dominicana (Cabarete)
Set up of the new kitchen and dining-room (new administration).
1997-98
Chef, Jalinar International, SNC Lavallin
Libya (Africa), Tazerbo Camp, Desert, 250 residents
1997
Cook, Auberge Mont-Gabriel (Mont-Rolland, Québec)
Day cook, Preparation of cold and hot buffets.
1994-96
Chef, Restaurant La petite Bouffe (St-Denis-sur-Richelieu)
French cuisine, Lunch and supper.
1993-94
Owner, Chef, Restaurant Les Petits oignons (St-Marc-sur-Richelieu)
Dining-room and terrace (100 pers.). French cuisine.
1986-93
Cook (part time). Centre d'Accueil Dominique Savio Maimbourg (Montréal)
Juvenile Delinquant's Residence, 200 x 3 meals/day.
1985-93
Cook (weekends), Canadian Ministry of Defense
300 breakfasts and lunches/day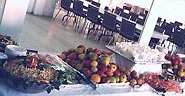 1987-88
Chef, Magdeleine HighSchool (La Prairie, Qc)
800 lunches/week
1986
Chef, Brasserie Le Carrefour (Tavern) (Varennes, Québec) 650 lunches/week
1985
Chef, World Tour on board a sailing school ship (West-Island College, Class A Float 1985-86, - International Youth Year)
60 meals x 3/day
1981-84
Cook (team of 20 cooks), International Catering Services (Algeria)
Construction of the Algerian Independent Monument, 6,500 meals/day

1976-81.
Cook. Restaurant La Grange.
St-Charles-sur-Richelieu. 500 meals/week. French Cuisine.